Day tour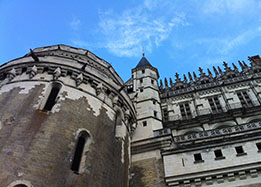 Highlights: 2 castles, a town and a wine
Date: All year along
Transportation: Fully chauffeured private luxury car with your guide
Accommodation: N/A
 
You don't have much time, but there is this one castle you have always wanted to see, this wine you have heard so much about, this market/church/restaurant you just need to check while in France…
Tell us about your secret dream and we will arrange a special day tour just for you, to make your Loire Valley dream comes true.
Remember that Amboise, the heart of the Loire Valley, is easily reachable from Paris (1 hour by bullet train) and thanks to our efficient planning we promise you the best of time.
The following day tour is one of our guest favorites, as it gives an overall view of the region, but once again, all our tours are custom made and we will be happy to craft a special itinerary just for you. 

Morning:
Start your day by the visit of Chenonceau castle, the "Ladies castle" built across the Cher River, and its gardens, with your private guide.
Lunch:
Have lunch in Amboise at the foot of the castle and take a short walk in the pedestrian streets of this renaissance town.
Afternoon:
Visit the Clos Lucé, the last residence of Leonardo da Vinci. Then, continue to Vouvray across the vineyards for a visit of a troglodyte wine cellar and a wine tasting.

Price starting from € 345,00 per person on a basis of 2 persons.
Subject to availability at the time of booking.
It includes:
Welcome and pick-up at the train station by your private guide
All transportation in a deluxe vehicle
All the entrance fees
The gourmet lunch with drinks included
Wine tasting
RiverLoire local assistance
Fees and taxes